Kate Marks Brilliant Female Fund
Est. in 2021 as a donor advised fund by Kate Marks.
May 26, 2022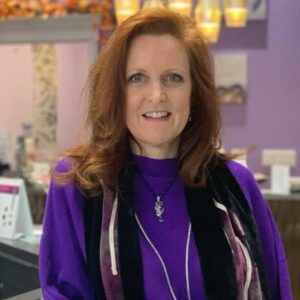 Kate Marks is not only a successful and talented businesswoman, she's also an award-winning jewelry designer, metalsmith, and gemologist, seasoned in the jewelry industry since 1985. She's also determined to give back to her Valley. The name Kate chose for her fund says it all.
"I think anyone who has been through a challenging experience in their career or lifetime will learn from it and something positive will always come to fruition," Kate said. "I want to help other women understand that. I've been fortunate and successful in my journey, and this Valley community is a large part of my success. The Valley Community Foundation has given me a way to support women who are driven goal-setters."
Kate said she's had her share of challenges as an outspoken assertive female, both in her youth and adulthood.
"Brilliant females in male-dominated fields, such as mine, need help at times. I want to support other strong women with starting a business, scholarships, financial assistance or even just trying to make it through something like the recent pandemic. This is a fund for fabulous women of all ages."
Kate said she taught her children that giving back to the community should always be a priority.
"They understand how important it is to give back to those that helped me be successful," Kate said. "That's why my children and nieces are on the fund's advisory committee, I want them to understand why it exists and the impact it can have on our community."
Kate's passion as a gemologist and goldsmith is evident by the success of her business. Marks of Design jewelry store has thrived in Shelton for more than 22 years.
"Diamonds and gemstones are a large part of my business," Kate said. "We need to be there for each other, to straighten each other's crowns when needed, because they get heavy at times. This fund will allow me to create a legacy that will help other women sparkle."
Make a donation
Kate Marks Brilliant Female Fund